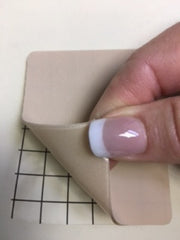 Visco-Gel Moleskin Padding 2 1/2" X 3"
Product description:
This self adhesive gel pad relieves pressure and friction to skin. As well, it moisturizes. It can be cut easily to protect almost any area. These pads are excellent for blister prevention and are slightly thinner than Gel Skin (Gel Moleskin).
How to use this product:
Apply to clean, dry skin.
Recommended care:
Wash with water and mild soap as needed. Washable and re-usable. Once dry, pad will renew its self sticking surface.
Precautions:
Do not use on open wound. If skin irritation occurs, remove immediately and consult your Podiatrist or Medical Specialist.